This is one I've been meaning to make for ages. The combination of the stocking stitch and pattern stitch is very elegant. I used Louisa Harding Thistle, which is a suri merino blend, and very soft and squishy. It also doesn't seem to shed much, though I deliberately chose a darker colour just in case.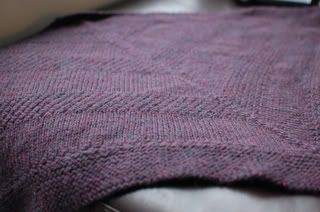 I did one extra repeat of the stocking stitch and pattern, resulting in a larger shawl – there were a huge number of stitches in the end so I cast off a few rows early (It was snowing and I wanted to wear it!). I used 4 skeins in total.
I've also nearly finished my Baudelaire, which is turning out very pretty. The dinner bell ruffle is fascinating to knit, as it just looks like it's not working, then all of a sudden you have a row of beautiful ruffles! The only issue is, no one at home is convinced by the ruffles at the back, so I'm not sure if I should frog the back and do it again without ruffles. And if I do, I might run out of yarn which would be a pain as I bought it from Webs (and got hit by customs! Grr). I wonder if Loop have it – I noticed someone on Ravelry has planned the project with yarn from Loop.