I managed to get to Knit Nation after our break in Anglesey (photos to come). I was thinking about it but having had to forgo the Thursday Marketplace Preview, it seemed a bit excessive to buy another ticket, knowing I'd end up buying more yarn. However, I was swayed by the photos of the Wollmeise stand. It wasn't so much a stand as an amazing, jewel bright Aladdin's cave of luxurious yarn. As I won't be going to Germany any time soon, and the yarn is virtually impossible to get online, I decided it was worth a trip. And I managed to get out of taking little S (who doesn't take well to long shopping trips of any kind!) so it was a nice easy trip on the tube.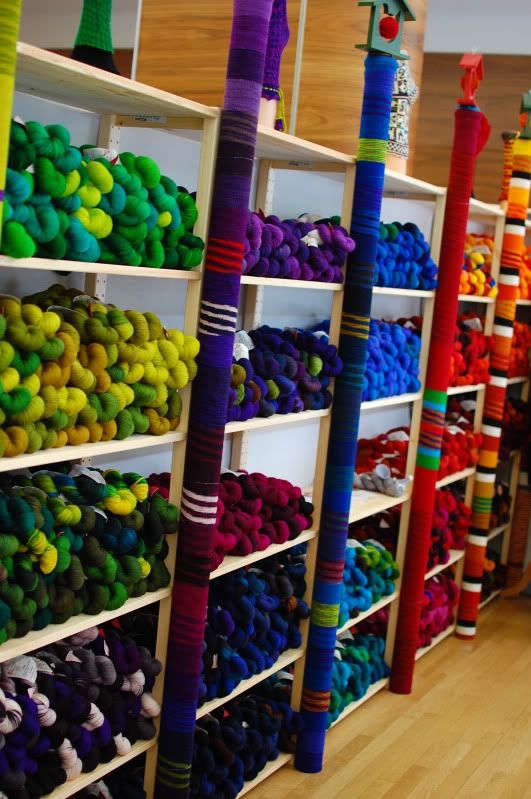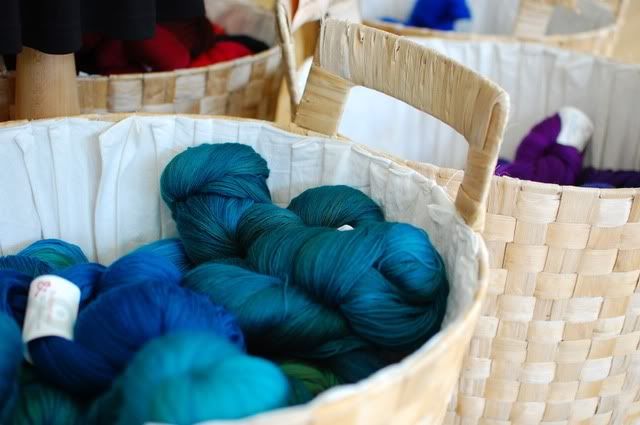 I ended up with 2 skeins of Petit Poison NO. 5, and one in Tambopata, all 100% Merino Superwash. I also had a chat with Ysolda, and bought Whimsical Little Knits 2, as there are lots of little stashbusting projects in there. Her new book looks great – she had all the sweaters out on a rail so you could try them on, and there are a couple of patterns which I definitely want to try out. It was also useful, in that I got to look at some yarn that I've had my eye on online, and decided I didn't want them so much after all. And that can only be a good thing, right? My last purchase was some beautiful soft Vinnis Bamboo yarn. I already have some in Olive green, but haven't ended up knitting it so far as it isn't a colour I really love. I bought Turquoise this time, which is gorgeous and bright.
Beautiful Loop sign! Love that Julie Arkell model
I didn't get to do any classes this time, but I will definitely think about it next time, as the feedback was great. Maybe a lace knitting class,, or Sweater Fitness because it would be a really useful skill. The next fixture on the knitting calendar is the I Knit Weekender, which also looks amazing.