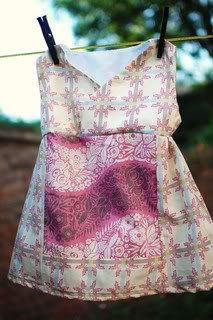 This dress, from Anna Maria Horner's Handmade Beginnings book, amazingly only took one day to cut out and make. It would have taken even less time if I hadn't messed up and cut out a smaller pattern piece for the skirt thus running out of fabric and having to patch together pieces the right size for the back!
The fabric is Little Folks, the line I used for this quilt (which is basically finished, I will photograph soon!). It's ideal for making baby clothes, as its so light and silky, but at the same time machine washable. I thought about lining the skirt too but I'm happy with the unlined original version too. It would be cute with a tulle lining too.
I learned how to do French seams which I had been needlessly worried about – I think I had been mixing them up with Hong Kong seams (where bias tape is used to cover the raw edges) and also attaching elastic to the waist using zigzag stitch.